Challenger Mines Pty Ltd (CML), a wholly owned subsidiary of Macquarie Gold Ltd (MGL) and International Base Metals Limited (IBML), holds EL 5728, ML 1435 and sixteen Mining (Claim) Leases. MGL, through CML, is proposing to develop the Challenger-Challenger Extended resource within ML 1435 and covering the majority of the Adelong Gold Field.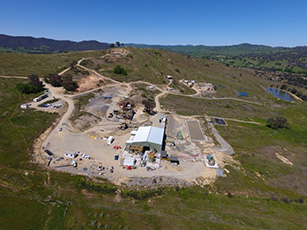 The Adelong Gold Project is located near the township of Adelong about 80 kilometres east-south-east of Wagga Wagga and about 15 km west of Tumut in southern New South Wales. The location is within Exploration Licence 5728 which surrounds Mining Lease No 1435 and Mining ("Claim") Leases Numbers 279 to 291 inclusive and 311 to 313 inclusive.
The Adelong Gold Field remains largely unexplored. Challenger Mines Pty Ltd aims to broaden the exploration effort and look more closely at prospects more remote from those where past exploration has concentrated.
Gold was mined on the area included in the Adelong Gold Project from discovery in the mid-nineteenth century until the mid-twentieth century. Further resources of gold have been defined on the Project during exploration over the last thirty years.
Community And Environment
Challenger Mine
Location: Corner of Ryans Rd and Golden Gully Rd, Adelong NSW 2729
Contact: Mine Manager (02) 6946 2266